Support
His Holiness the Dalai Lama on Voice of Tibet:
"This is the only radio service in [the] Tibetan language with a Tibetan editorial board in charge, allowing us [Tibetans] to comment on events of Tibetan interest from our perspective. Voice of Tibet is highly appreciated by Tibetans in Tibet as well as those in the free world. I would appreciate […] if sympathetic organizations and individuals could help Voice of Tibet continue functioning for many more years to come."
---
The Voice of Tibet daily radio programs aim to boost the spirit of Tibetans both in Tibet and the exile communities, as well as trying to be instrumental in the effort to preserve the Tibetan culture and language. They provide unbiased news and trustworthy information, educating people in issues of democracy and internationally acknowledged human rights.
Voice of Tibet provides an open channel for promoting Tibetan culture and identity, knowing that people in other parts of the world are concerned about the present situation. The programs also reach out to the large non-literate population in Tibet. Voice of Tibet aims to improve communications between the Tibetans living in Tibet and the free world.
The project has in the past been funded through donations from supportive organisations and individuals. To continue and further develop the Voice of Tibet project we need your support. If you would like to support Voice of Tibet, please use the link to the PayPal account below:
At present VOT is in the process of applying for grants to further extend and develop its activities and infrastructure in India and Nepal. This will increase Voice of Tibet's ability to provide an open channel for communication between Tibet and the outside world.
---
Sponsor today's program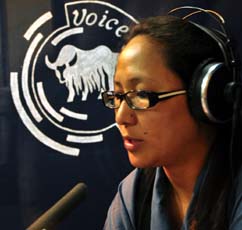 You can support Voice of Tibet through sponsoring a day's programs. Your name or the name of your organization will be put up on our front page together with a link to your web site. Voice of Tibet will also maintain a list of people and groups that have sponsored programs in this way.
One day of Voice of Tibet programs costs US $100. This pays for the sending of one 30-minute news service in Tibetan followed by a 15-minute service in Mandarin Chinese. Both programs are aired three times; twice in the morning and once in the evening.
To contact us about sponsoring Voice of Tibet, please go to our contact page.